As a licensed and ordained minister, I have had the unique opportunity of attending many minister conferences.  I have had conversations with other ministers about Marriage Partners Ministry #1 Pre-marital counseling program.  I would like to share with you some of the common questions I get and their answers.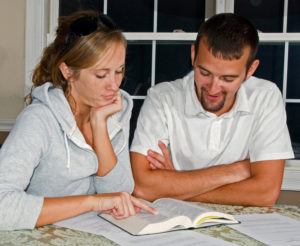 I think the most common question I get is, "Why doesn't your program spend lots of time talking about marital finances, in-law issues, and expectations?" (an example would be gender role expectations).  Stop and think about that one family all of us know.  That family that doesn't have much money yet they are always so happy, helpful, and cheerful.  A money problem doesn't have to become a marriage problem.  This is profound!  An in-law problem doesn't have to become a marital problem.  Un-met expectations doesn't have to ruin marriages.
At the core of the three issues mentioned above is a central theme.  If you can identify the central theme you are nearly, a genius!  Any difference in preference is a conflict.  Any difference of values is a conflict.  Any difference of opinion is a conflict.  Any difference in perspective on the same subject matter is a conflict.  Any difference in emotional reaction to the same event is a conflict.  Are you beginning to see where I'm going with this,
We could spend days or weeks on each of the above subjects or we could just learn how to properly handle marital conflict.  At the core of many problems is just conflict.  Once couples learn and cultivate the skillset of Marital Negotiation then the primary issue will never grow into a marriage problem.  Never!  Marriage Partners Ministry has a Marital Negotiation The Policy of Mutual Agreement course which is a DVD and workbook.  In this course, you will learn the skillset of marital negotiation.  Notice I said marital negotiation?  Why didn't I just say negotiation?  Why did I add the word "marital?"
Human beings are hardwired to negotiate in a way that destroys the feeling of being in love.  We teach couples how to negotiate in a way that, the negotiation process as well as the outcome, creates and sustains romantic love.  This is revolutionary!  You might ask, why the interest in romantic love?  I want you to see that nobody is talking about a divorce, ever, when their "in love."  Nobody!
The second most common question I get is, how can you say your program is #1?  You might be asking how can you make such a claim? We follow a time proven successful model! I think it's important to begin by defining what a very successful pre-marital counseling program looks like. Let's look at this from the couple's perspective. The couples who go through our program would define the program as a success based on the results. The sought after results are a happy and passionate marriage, maintained consistently over a lifetime. This is exactly what we deliver! In order for Marriage Partners Ministry to determine whether or not were meeting this objective we must survey the couples over a period of 10 years. This is good news for you! You get a program that through iterations and time is now the most effective available.
Many other people's pre-marital counseling programs undergo very little changes over time or tracking of results. We have studied many other programs and found that the programs claim to have a high rate of effectiveness. We decided to look into how they defined "effective." Lots of other pre-marital counseling programs send out a survey card only one month after the course has been taken. Nobody can determine effectiveness after only a month! This is ridiculous! The cards get filled out and returned with positive ratings and these ratings are used to call a program effective.  The couples who fill out these cards are generally experiencing a high point in their lives. They learned information in the pre-marital program and they feel good about that. They generally received the training for what they feel is a very good low price and they feel good about that. They sensed the church genuinely wants them to have a good marriage and they feel good about that. They are generally experiencing very little problems in their relationship because it's so new and they also feel good about that. The couple is experiencing a reciprocity bias. A desire to reciprocate. They want to give back to the church who gave to them. Remarkably high rankings are cheerfully given, everyone feels good and the couple is off to conquer the world. These gratuitous surveys are worded and designed to "pump" the desired feedback. The problem with this sort of gratuitous feedback is twofold. One, the pre-marital program administrator doesn't know where they can improve and change things. Two, nobody knows the long term effectiveness a particular program has with regard to maintaining passionate marriages that last a lifetime.
I can promise you this, the vast majority of pre-marital programs out there are good but when evaluated in terms of creating passionate marriages that last a lifetime, they are a disaster. You might wonder how I could say such a thing. Most churches across America offer some sort of pre-marital counseling and most feel that what they offer is sufficient. If we take a look at divorce statistics it's pretty easy to see. The divorce rate of those who regularly attend church are roughly about the same as those who do not attend church. Those who attend church are generally required to get pre-marital counseling before getting married and those who don't attend church have no pre-marital counseling requirements in most states. The evidence is in! The long term value of most pre-marital counseling is negligible at best. Most divorcing couples when asked if they found their pre-marital counseling program (done by others, not us) to be successful will report that they found value in the program but obviously not nearly enough! These are the reasons why we at Marriage Partners Ministry feel so strongly about tracking the long term results of our pre-marital counseling program. We can very confidently and legally say. We are number one!
I have been asked about the denominational differences of our teachings because Marriage Partners Ministry has a licensed and ordained minister as the founder. Dr. Kevin Eggerth is very aware of denominational differences and intentionally designed this pre-marital counseling program to be free of those differences. Dr. Kevin Eggerth takes great care to assure you that this program will not indoctrinate your congregants into any different denominational views. We honor and respect ALL churches. Our mission is to be used by God to save millions of marriages. We would love to partner with you in this God ordained mission!
Some people feel we shouldn't focus on feelings and instead focus on commitment or some other aspect of marriage. Dr. Kevin Eggerth agrees that commitment is very important and so are feelings. I would like to say this very loudly, nobody's talking about a divorce, ever, when they're "in love"! Nobody! Our approach does not go against commitment but works along with commitment for a more successful long term outcome. There is one thing that can't be argued and that is results. Marriage Partners Ministry teaches people the emotional recipe which creates the intense feeling of being in love. It's a plan that everyone can follow and makes marriage so rich. When we identified this key element to happy marriages our success rate for pre-marital counseling, as well as marriage counseling, skyrocketed! We had certainly found the golden key!
At Marriage Partners Ministry we have found that by giving pre-marital counseling clients a step by step model we have greatly decreased their frustration and greatly increased their long term marital satisfaction (10 year survey results). This has been done for thousands of couples! Couples will have a clear path and understand thoroughly what to do at every step along the path. The confusion melts away and the steps seem simple and understandable.